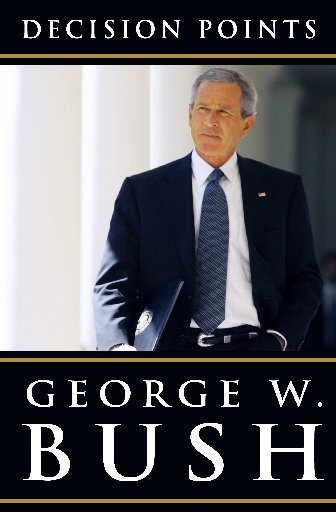 When I began this book two months ago, I did so with the following two facts:
I wanted to be unbiased, and
I understood that former President George W. Bush was going to paint things in the best light he could.
With those two facts in mind, I eagerly dove in.
In the preface, Bush (not a sign of disrespect, but I don't want to type out 'President' every time) explains why he wrote the book the way he did and honestly, I'm glad he did. This won't ruin the book for anyone, but he says he didn't want it to be a book about his life, just his biggest decisions in the White House so people, and history could see what he saw and understand why he came to the decisions he did.
I know that was one of the criticisms of former President Clinton's memoir, aptly titled, My Life, which I do desire to read.
The book only has a dozen or so chapters and touches on the obvious topics of 9/11, Afghanistan, Iraq, the Surge and Katrina. But it also touches on some of the personnel issues, most notably Secretary of Defense Donald Rumsfeld and his selection of Dick Cheney as his Vice-President. One of the more interesting topics from my standpoint was one of the first chapters in the book about stem-cell research. Full disclosure: I'm not a doctor; not that any of you would make that assumption.
I made it very public back in 2001 that I wholly and vehemently disagreed with the President's decision to strictly limit federal funding of stem-cell research. I mentioned I am not a doctor because I am taking the former president's words on it, but his decision has scientifically proven to have been the right one. While during his term, scientists found a way to re-create the science without destroying any chance of life. In fact, one of the President's biggest critics on this issue wrote: "The verdict is clear: Rarely has a president—so vilified for a moral stance—been so thoroughly vindicated."
I rather not bore you with more information about the book, but I do suggest you pick it up and read it. It is an interesting look from Bush's perspective on his eight years in office.
Why You Should Read It:
I think any interested in politics, government and history AND who wants to have a seat at the debate table should read books on major decisions, including the presidential memoirs
You will get an unvarnished view of the decisions from the man who made them
If you hate or disagree with the man going in, you probably won't change your mind, but you might understand a little bit more
What You Can Expect to Walk Away With:
Hopefully a deeper appreciation for the tough choices any president has to make
Certainly an understanding into how the president came to his decisions
and finally, I sincerely hope if you read this book, you will walk away with a little more respect in seeing through his own words that everything he did, he did because he believed it was the right thing
Let me conclude by saying this was an interesting read and I don't agree with everything President Bush did or said in the book. I believe him to be a good and decent man – but good and decent men (and women!) can and should disagree.